Love in Lingerie
By Alessandra Torre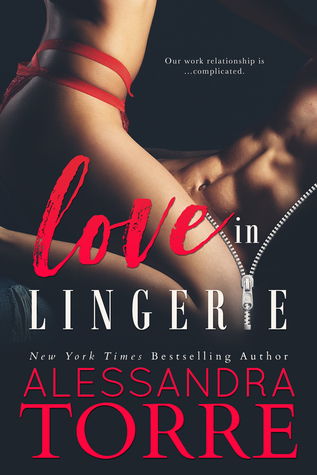 I hired her to fix my company, to bring Marks Lingerie back to life. I didn't expect her to become my friend. I didn't expect to fall in love with her.
The first rule of business is to never touch your employees. I think there is another rule about not falling for your best friend—a rule against imagining the curves of her body, or the way her breathing would change if I pulled down her panties and unzipped my pants.
Now, I can't wait any longer. I'm tossing out the rules.
Damn the company.
Damn our friendship.
Damn my fears.
---
THE COVER! I AM SCREAMING…. the cover is seriously hot and reflects perfectly for everything this book is. It's just gorgeous. Alessandra has to be one of the best writers that I love to read. I devour her words like they're just going to disappear if I don't read them fast enough.
I never thought I'd feel as much as I felt during this read! I thought Trey would be this cocky business man with a supersized ego, I mean, working in women's lingerie… but boy was I wrong.
"Baby Jesus in a Manger. The man should be illegal."
He is definitely cocky but he's also smart and sweet. I was surprised at his feelings 80% of the time. I think I probably related to him more than Kate, which is a first for me. I can't even describe it I just felt what he felt for Kate. He wanted her so bad, damned if she was meant for anyone else.
If our relationship was lingerie, it'd be fur-lined handcuffs, latched around you, the key lost, escape impossible."
The chemistry between the two is undeniable. The forbidden office romance, the angst of all the double dates as time goes by. Somehow it always ends up just Trey and Kate with their cute, flirty, sometimes highly inappropriate banter. Not to mention how flawless the two of them are working together, they make a great team. Trey and his business would truly be screwed without Kate.
If our love was lingerie, it'd be leather, thin strips of binding that could withstand a hundred years of war and peace, fights and love-making."
Slow burning friendship… high sexual tension… ends with a fire, literallysmokin' hot!
My rating: 4/5 stars
*I received an ARC in exchange for an honest review. Many thanks for allowing me to read this book!
Buy Link: AMAZON