Pretty Lost Dolls
By Ker Dukey & K Webster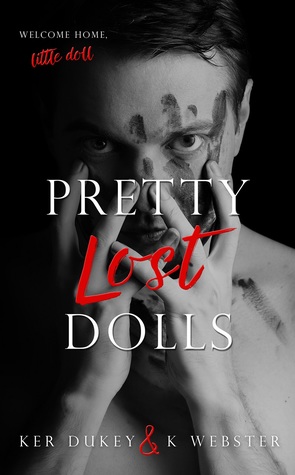 18 only.
Benny had a dolly who was sick, sick, sick.
Just like him, his dolly needed darkness as a fix, fix, fix.
So they tormented and hunted and played tricks, tricks, tricks.
Together their sins a lethal mix, mix, mix.
Until Benny missed his dolly who was lost, lost, lost.
He needed to find her and love her at any cost, cost, cost.
Not wanting him and his dolly to be alone, lone, lone.
He made plans to bring his dirty dolly, home, home, home.
Have you ever touched another's soul with the essence of your own, breathed them in so they become apart of you?
I have.
Finally starting to live, feel and fall in love, amongst all the chaos surrounding me.
Dropping my guard and letting another into my heart.
I left my soul open.
I left my heart open.
I left the door open.
And he stole me.
Dillon…I'm sorry.
---
Ker and K have some pretty sick, genius noggins on their shoulders. I love them for that, lol. Pretty Lost Dolls picks up right where book one left us, hanging off the edge of that horrendous cliffhanger! We get to see the story from Jade, Dillon, and Benny's eyes. We get to start understanding Benny and why he does the things that he does. Why he's so disturbed. 
Just like Jade knew all along, she was never safe. Benny came for her and he won. Or so he thinks. He has his pretty little doll back but she's not the same. She's tougher now and stronger. She's a cop. She's determined to get herself out of this situation alive AND her sister this time. Macy is off her rocker, completely crazy. Out of everything messed up and wrong in this book I think Macy creeped me out the most. Even more so than Benny and that's saying something!
The more Benny reminisced about his past the more I started feeling a little twinge in my gut. I think it was what you could call sympathy. To have such a twisted, sick, disturbing life as a child – no one deserves that. Only Ker and K could make me feel sorry for someone that's so evil!
I can't possibly give anything else away. Pretty Lost Dolls is wicked, twisted, disturbing and so intense! Emotional roller coaster- nail biter, blood pressure rising, you name it.. this book can make you feel it. Prepare to be sitting on the edge of your seat with your fingers wedged into it, left with your mouth hanging open!
My rating: 4/5 stars
Buy link: AMAZON
*I received an ARC in exchange for an honest review. Many thanks for allowing me to read this book!