The Glorious Heresies
By Lisa McInerney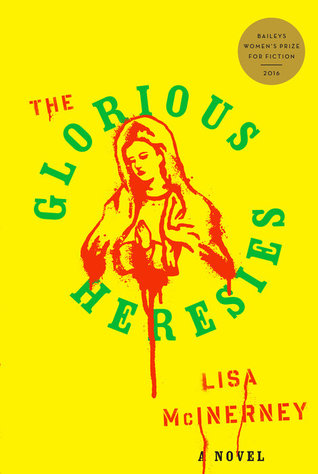 Biting, moving and darkly funny, The Glorious Heresies explores salvation, shame and the legacy of Ireland's twentieth-century attitudes to sex and family.
---
I'm not sure what I expected going into this book. I expected dark, ugly, desperation. And that's exactly what you get. I've stewed on this book for a few days to get all the right words to describe it and it's very hard to accurately give it justice. Lisa McInerney is such an Irish storyteller that I had trouble reading it at first and even debated putting it down.
You have five people who are all connected because of  murder, drugs, prostitution. You start out meeting them one by one until you start to see the connections and the light bulbs turn on… you start to see who's who and it's fascinating and sad all at the same time.
The Glorious Heresies is real and raw. Showing what life is like in the dark criminal sides of town. Not the fluffy version but the dangerous and realistic view. You can't help but wonder what exactly this author has been through in life, or maybe she just has a really good imagination and research.
I didn't particularly love this book which I was surprisingly disappointed in. If anyone loves real, dark, gritty books it's me. I think the heavy Ireland setting made this one more difficult for me to enjoy.
*I received an ARC from Blogging for Books in exchange for an honest review. Many thanks for allowing me to read this book.
My rating 3/5 stars.
Buy link: AMAZON