Swear On This Life
by Renee Carlino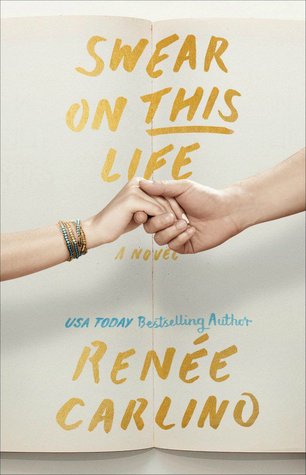 "For my EM. Don't wait this long. Come let me love you."
So how would you feel if your friend had this best selling novel she wanted you to read, only to start reading and discover it's your whole childhood…..
"Imagine how I feel reading my own thoughts that I didn't write."
Emiline is completely shocked to find out that her first love, Jase has written a book about the two of them in HER point of view. She knows from the very first page who "Jax and Em" really are.
"From the moment I read the second line in the first paragraph, my heart rate tripled. Instantly, I was sweating. By the end of the first page, I was almost hysterical."
This story goes back and forth in the present and the past so effortlessly. I loved the book within a book story telling. Their past is so raw and hard to read at times it really made me feel their emotions. Their pain and love just poured off the pages.
"There was nothing we could do; we were just a couple of powerless, poor kids, so desperate to find a way to be together…."
Years later when Jase and Em reconnect, she can't get over why Jase lied in his novel but all he wants her to do is finish it. Current relationships collide with the past and Emiline has some major life decisions to make.
"Isn't it weird that we had nothing at the time… but somehow it felt like we had everything?"
After all the time that passed the love between the two was still SO strong and so real every time they saw each other. The lengths Jase went to, to find Emiline and make her see him. I couldn't turn the pages fast enough to get the answers I needed. It had just the perfect ending to such a great story.
I  loved this unique, emotional, second chance romance!
My rating: 5/5 stars