The Hundred Lies of Lizzie Lovett
by Chelsea Sedoti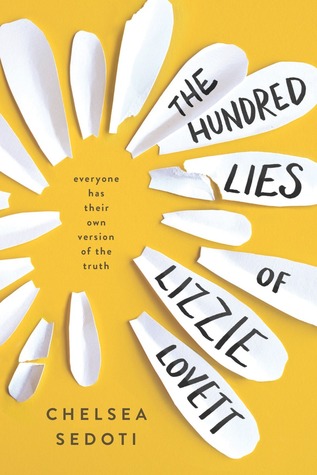 I recieved a copy of The Hundred Lies of Lizzie Lovett by Chelsea Sedoti in exchange for an honest review. 
"Lizzie Lovett went into the woods and never came out. But I would. I would come back with all her secrets."
This book was woah. One of the best YA reads I have read this year.
I lovelovelove Hawthorn Creely. She is unique and doesn't see the world like most teenagers at her high school. She has a wild, bold imagination that just flies off the pages. Her inner dialogue is witty and full of black humor. She makes you laugh at her quirky morbid thoughts. Think Sixteen Candles meets The Breakfast Club.
But Hawthorn isn't popular like Lizzie Lovett. Lizzie is the perfect cheerleader with all the perfect friends living the perfect life with her perfect boyfriend. Or so Hawthorn thinks….
Lizzie suddenly goes missing after spending the night in the woods with her boyfriend, Lorenzo. Hawthorn becomes obsessed with finding her. She's sure that Lizzie is not dead. Because bad things don't happen to perfect people.
During her obsession she learns more about herself, Lorenzo, and even Lizzie. Things aren't always as they seem on the outside. Not everyone is as perfect as they pretend to be.
This book touches so many reflective topics I couldn't stop highlighting. Self acceptance, death, suicide, bullying. The test of relationships and family. There are even wolves! Yes, wolves! Hawthorn and her imagination. The wolf subject, which you will understand when you get there, is totally weird. But that's Hawthorn. I loved her even more for it.
"The most beautiful thing about the world is how much is unknown to us. There are so many secrets. So much awaiting discovery. We are merely dust motes in the vastness of the universe."
*This book releases Jan 2017 and you have to add it to your TBR! It's unlike anything else you will read all year.
My rating: 5/5 stars for Hawthorn Creely